There are still companies out there that don't have a website (shock!), but this is mainly due to not seeing the value in it, or not understanding what a website can do.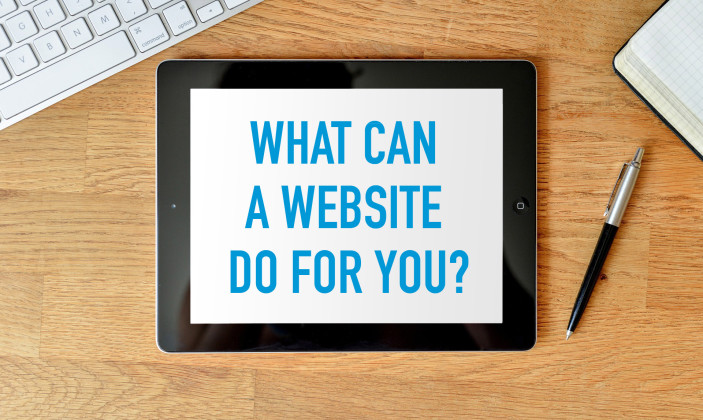 A website is a key tool in communicating with your clients and potential customers. It's a big wave hello to people looking for what you are offering and introducing yourself without having to do much leg work.
We've put together a list of 10 things a website can do for your business:
Let people know you exist. Internet searching is the most preferred method to look for businesses and information. How will anyone find you if you're not there?
Information platform. A website allows you to display, inform and educate people about your business and what you can offer. Text, images, videos, you name it can be put on a website so you can demonstrate your products, without the expense of travelling to meet people.
Answer questions. How often do you get asked the same questions? Put this information on your website, maybe in a FAQ section so people can find the information they are looking for without having to take time out to call you. Time is money as they say, so a win win all round.
Reach a wider market. Half the world's population is now online and you can reach them all! The internet is not limited so why restrict your target area, let everyone know about your business. It can open up a whole new market that you might not have been able to reach before.
Multi-lingual. Want to reach people in a different country? No problem. Websites can be developed to be multi-lingual so you can communicate with people who speak a different language, even if you don't speak their language!
Everyone expects businesses to have a website and it has become as essential as having a phone line. People search the web to find businesses like yours and if they don't find your business you can guarantee they will find your competitors.
Increase profits. If more people can find you through your website your profit margins are going to increase.
Instant updates. If you have a new product launching, or a special offer to promote you can do this instantly on your website without the expense of getting new marketing materials printed. A website is there for you to use and update as often as you like.
Access 24 hours a day. A website is available to everyone 24 hours a day, so potential clients can find you and the information they are looking for at any time of the day or night.
It's highly likely your competitors have a website – don't miss out on increasing your client base because people don't know you exist.
Websites vary wildly and are only limited by imagination and budget but even the most basic 'brochure' site can provide many benefits to your business.
Here are some ideas to get the most out of your website:
Don't put too much text on the site, people won't read it. Instead, include key information, use bulleted lists and pictures to break the information up and to add interest.
Use good quality relevant pictures.
Use reviews/testimonials to help promote your business.
Advertise special offers.
Include a map, your address, contact details and contact form so people can get hold of you easily.
Showcase your areas of specialisation, articles or case studies.
Advertise any vacancies you may have.
The cost of a website will depend on your specific requirements, but even the simplest website can have massive benefits for your business – can you afford not to have one?
Plesilium Ltd offer bespoke website design and development. For more information contact info@plesilium.co.uk / 01920 318202.